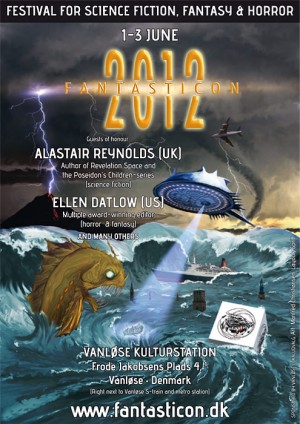 Welcome to the website for Fantasticon 2012. After last year's one day-event we have expanded Fantasticon into a three day-event at Kulturstationen Vanløse from June 1st to June 3rd.
We are proud to announce that our Guests of Honours are British science fiction writer Alastair Reynolds and multiple award-winning horror and fantasy editor Ellen Datlow (US).
Keep visiting this site or our Facebook group for further updates and information. In the following months we will announce more guests and details about the programme.
In the meantime, check out the trailer for Alastair Reynolds' new novel Blue Remembered Earth – Book One of Poseidon's Children:
You can also read the prologue and the first three chapters from the novel:
Blue Remembered Earth – Prologue
Blue Remembered Earth – Chapter One
Blue Remembered Earth – Chapter Two
Blue Remembered Earth – Chapter Three