Contact info
Follow the news on this site or join our Fantasticon Facebook group.
If you need to reach one of the organisers you can email: 2012
fantasticon.dk
Flyer and poster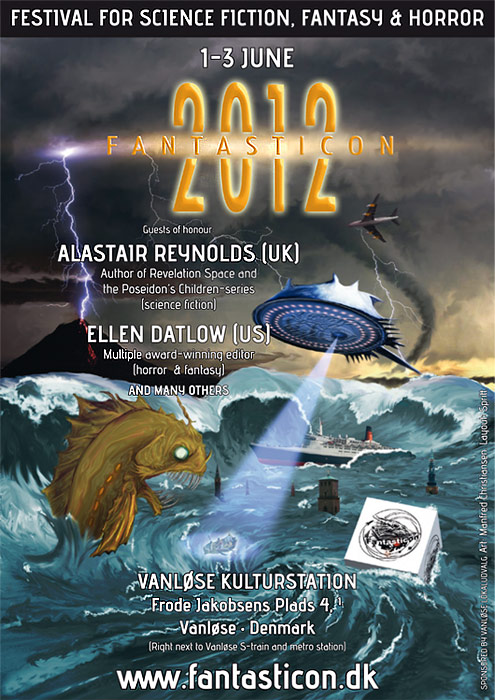 You're welcome to download and print the Fantasticon 2012 flyer and hand it out to whoever you think might like to come.
Or print the A3 poster and hang it at you local library, comic store, school, work, book store, hair dresser's or whatever …
This year's motive is created by Manfred Christiansen – poster/flyer layout by Spritt Schapiro.
Get flyer:
Flyer sheet for print  (pdf) – 585 kb
Two A5 size flyers on a A4 sheet.
If you only need the web version for posting on an online forum or to send by mail, get this version:
Webflyer 495 px 700 x px (jpg) – 120 kb
Get poster:
A3 poster for print  (pdf) – 1,7 mb
A4 poster for print (pdf) – 1 mb
Fantasticon logo

Feel free to use the Fantasticon logo as an illustration on a blog entry, forum post, article or the like. Downoad logo here.
The logo is created by Karsten Sand.
Get Fantasticon logo:
Fantasticon logo for print – 371 kb
(7 x 7 cm, 300 dpi, rgb, jpg)
Fantasticon logo for web – 17 kb
(200 x 200 px, rgb, jpg)
Webbanner
We're working on a webbanner to promote the event. When available you're free to post our banner on your website or in relevant fora and newsgroups.
If you want to swap banners please contact 2012
fantasticon.dk.