Time and date
Friday 1st of June 2012
15.00-19.00 (3 pm-7 pm)
Saturday 2nd of June 2012
11.00-20.00 (11 am-8 pm)
The Fantasticon banquet (not included in the entrance fee) is at 20.00.
Sunday 3rd of June 2012
11.00-18.00 (11 am-6 pm)
Venue
Kulturstationen Vanløse
Frode Jakobsens Plads 4, 1st floor
2720 Vanløse
Denmark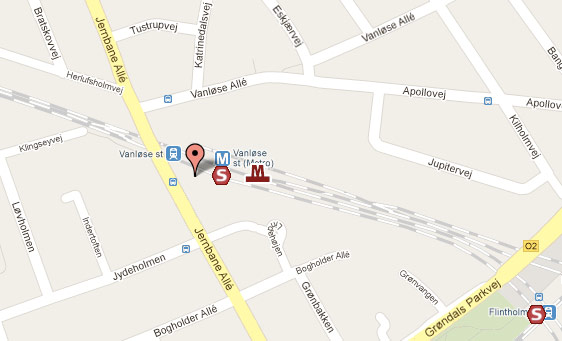 Kulturstationen Vanløse is very easy to find and easy to reach using public transport. It is located right next to Vanløse Station with regular S-trains, Metro and buses.
By car the neighbour Føtex supermarket has a parking garage around the corner (check the supermarket's opening hours) or you can park in the street (but it can be a bother to find a free parking space).
Tickets
Entrance is 100 Dkr. for a single day. Full weekend is 250 Dkr.
Pre-registration (also called membership) is open until about a week before Fantasticon, but tickets can be bought at the door (cash only). Pre-register here.
In addition to admission, membership gives you the right to attend the annual meeting of "Foreningen Fantasticon" where the plans for next year's Fantasticon are voted on.
Please note that the cafe (cafeen, Vanløse Spisehus) and the library (biblioteket) is open to the general public, and we don't require you to pay, if you only want to attend the programme items in these areas. We have also decided to make the rooms with access to the terrace ("Kvansalen" and "Værkstedet") "free areas" during the library's opening hours – Friday until 17:00 / 5pm, Saturday until 14:00 / 2pm.
Saturday Banquet
Join the Fantasticon Banquet Saturday evening and dine with guests and attendees. Price Dkr. 250. Pre-register here.
Food and drinks
There's a café at Kulturstationen Vanløse, Vanløse Spisehus  – see the menu here.
Opening hours Friday-Saturday 10-23 (10 am-11 pm), Sunday 10-21 (10 am-9 pm).
Programme book
A programme book (in Danish) will be available for DKK 100 as preorder. Reserve your copy here.