Alastair Reynolds (UK)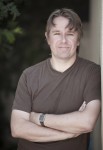 British science fiction writer Alastair Reynolds is the author of ten novels and around fifty short stories. He is best known for the Revelation Space-series which includes the novels Revelation Space, Redemption Ark, Absolution Gap, Chasm City and The Prefect.
His standalone novels are Century Rain, Pushing Ice, House of Suns and Terminal World. January 2012 saw the release of his latest novel Blue Remembered Earth, the first in a trilogy called Poseidon's Children. His Doctor Who novel, Harvest of Time – featuring Jon Pertwee's Doctor, Jo Grant and The Master, will appear in 2013.
He has won the 2001 British Science Fiction Award for Best Novel for Chasm City and he has been nominated for the Arthur C. Clarke Award three times, for his novels Revelation Space, Pushing Ice and House of Suns. His novella Troika made the shortlist for the 2011 Hugo Awards for Best Novella.
Reynolds has a background in astronomy. He spent the twelve years leading up to 2004 as a scientist within the European Space Agency, of which about half that time was spent working on S-Cam, the world's most advanced optical camera. After spending sixteen years in the Netherlands, he returned to his native Wales in 2008.
More information can be found at www.alastairreynolds.com or at his blog Approaching Pavonis Mons by balloon.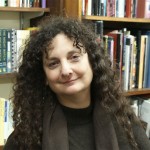 Ellen Datlow (US)
Ellen Datlow has been editing science fiction, fantasy, and horror short fiction for over twenty-five years. She was fiction editor of OMNI Magazine and SCIFICTION and has edited more than fifty anthologies, including The Best Horror of the Year, Inferno, Poe: 19 New Tales Inspired by Edgar Allan Poe, Darkness: Two Decades of Modern Horror, Lovecraft Unbound, Supernatural Noir, Naked City: Tales of Urban Fantasy, Blood and Other Cravings, The Beastly Bride and Teeth: Vampire Tales (the latter two young adult anthologies with Terri Windling), and Haunted Legends (with Nick Mamatas).
Forthcoming is the young adult dystopian anthology After and the adult fantasy anthology Queen Victoria's Book of Spells (both with Windling).
She has tied for the most World Fantasy Awards (nine),and has also won multiple Locus Awards, Hugo Awards, Stoker Awards, International Horror Guild Awards, and The Shirley Jackson Award for her editing. She was named recipient of the 2007 Karl Edward Wagner Award, given at the British Fantasy Convention for "outstanding contribution to the genre." She has also been honored with the Life Achievement Award given by the Horror Writers Association, in acknowledgment of superior achievement over an entire career.
She co-curates the long-running Fantastic Fiction at KGB reading series in New York City's east village.
More information can be found at www.datlow.com or at her blog: http://ellen-datlow.livejournal.com/. She tweets as https://twitter.com/#!/ellendatlow
Anne-Marie Vedsø Olesen (DK)
Best known for the fantasy trilogy based on Egyptian mythology "Djævelens Kvint", "Tredje Ikaros" and "Gudernes Tusmørke". A paperback version with all three books will be published at about the same time as Fantasticon.
Her most recent book "Glasborgen" (The Glass Castle in English) has been highly praised by most reviewers from the major Danish newspapers.
amvo.wordpress.com
Michael Kamp (DK)
Started with the self-published fantasy-series "Bobs saga", but is better known as a horror writer today. Last year was his most successful so far with two well reviewed novels, "Moln – Jorden husker" and "Bunker 137″ – both published by Tellerup – and the prize-winning short story "Telefonfis". He has also shown a knack for writing science fiction with the Niels Klim-nominated short story "Homo Arachnida".
www.michaelkamp.dk
Charlotte Weitze (DK)
Got a great start with her short story collection "Skifting", which gave her the award for Best Debut at BogForum in 1996. Most of her fiction mixes the mundane with the fantastic. Her short story "The Aquanauts" was the Danish contribution to the European sf-anthology "Creatures of Glass and Light" (2007).
charlotteweitze.dk
A. Silvestri (DK)
Since his debut in 2008, Silvestri has been a busy man indeed. Two short story collections (one science fiction, one part fantastic/realistic), an epic zombie novel (the +800 pages "Pandaemonium") and numerous appearances in anthologies has been the result. And he still manages to churn out a couple of short stories every month while maintaining a full-time job as a teacher. Don't ask us how he does it. Ask him!
Forfatter på halv tid
Henrik Harksen (DK)
Owner of H. Harksen Productions and an expert on H. P. Lovecraft, Harksen has published several Lovecraft-inspired anthologies in both Danish and English, as well as nonfiction books about the author. He is also the editor of the Danish horror-series "Dystre Danmark" and Thomas Strømsholt's much praised collection "De underjordiske". Harksen is even a fine fiction writer himself, demonstrated by his story Just An Accountant.
H. Harksen Productions
Nikolaj Højberg (DK)
Author, editor and publisher. The versatile Højberg seems to be able to manage all three roles. He is the author of a novel, two collections and several short stories. He has published works by Patrick Leis, Jan K and Mikala Rosenkilde, and he has edited the anti-fascism anthology "Det sker igen" and the fantasy anthology "Bag Adonais spejl". Oh and one other thing, he is certainly not a fan of sparkling vampires…
www.ildsjaelen.dk og Forlaget Kandor
Jonas Wilmann (DK)
Another young writer who has made his mark on the Danish horror scene in the recent years. 2011 saw two novels from him, "Mutagen" and "Smukke Anna", the last one published at his own expenses. His latest, the collection "Frygt-filerne", is released just in time for Fantasticon.
www.jonaswilmann.dk
H.H. Løyche (DK)
Danish science fiction-author and active fan, editor, debater and short story writer whose first novel was "Støj" from 1996. Løyche is a frequent guest at domestic and international science fiction cons and knows authors from all around the world.
Sven Damgaard Ørnstrup (DK)
Danish literature doesn't have a tradition for epic fantasy, but Ørnstrup is determined to change that. He began the series "Abaddons arv" with first novel "Vraggods" in 2010 and is putting the final touches on the sequel "Aiglans garde" right now. Ørnstrup is also responsible for the blog FantasyBøger where he posts news and reviews of fantasy books.
Carina Evytt (DK)
Horror is the literary equivalent to rock 'n' roll, according to Evytt who dug up Jack the Ripper from the grave in last year's "Jack the Rippers lærling" (Jack the Ripper's Apprentice). Her first novel was the monster tale "Let bytte" from 2006 and in 2007 she showed she wasn't just a horror writer with the fantasy novel "Sværdet fra Odin".
Freddy E. Silva (DK)
An up-and-coming author whose first novel "Mediatropolis" is just around the corner. Silva got his break when his story "Heksejægeren" was selected by Tellerup for their anthology "Velkommen til dybet" in 2009 and his short fiction has since appeared in several other anthologies. Check out his cool website:
www.freddyesilva.dk
Bjarke Schjødt Larsen (DK)
Larsen not only writes short fiction, but also teaches writing and is an active member of HUF – Håbefulde Unge Forfattere (translation: Hopeful Young Authors). He hosts the very useful website skrivekrampe.dk where aspiring authors can find tips about writing and news about competitions.
A. Rune (DK)
Another rare example of a Danish author who writes fantasy for a grown-up audience. Asbjørn Rune Bourgeat is planning a trilogy called "Traia" and gave the readers the first glimpse with last year's debut novel "Natdværgen". A sequel is forthcoming.
www.traia.dk
Peter Dreyer (DK)
Thriller author Dreyer started out as an astronomer but has primarily worked with IT. His first novel "Inkaens fjerde mulighed" came in 2006 and second novel "Glitch" was published last year.
Facebookside for Glitch
Lars Ahn Pedersen (DK)
Journalist by day, fiction writer in his spare time, Ahn has written short stories in a variety of genres and formats since 2007. He is working on his first science fiction collection right now and dreams of writing a novel when he grows up. Also known as A. Silvestri's shadow, since their stories often appear in the same anthologies.
larsahn.dk