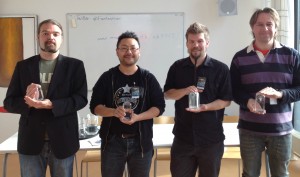 A lot of things happened at day two at Fantasticon 2012. Stormtroopers and the Visitors from "V" invaded, mad scientists and genre definitions were discussed, pictures were drawn and the ceremony for the Niels Klim Awards for best short fiction in Danish was held for the first time.
The winners:
Best novella (tie): Alastair Reynolds for "Skjul" (Hideaway) and "Minlas blomster" (Minla's Flowers) from Vejen mellem stjernerne (both translated by Niels Dalgaard).
Best novelette: A. Silvestri for "Faderens sønner" from Faderens sønner.
Best short story (tie): Michael Kamp for "Homo Arachnida" and Lars Ahn Pedersen for "En helt almindelig død", both from Den nye koloni – Lige under overfladen 5.