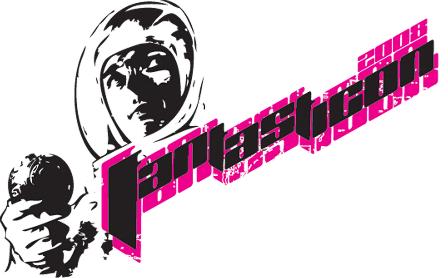 FANTASTICON 2008
26-27 April 2008
Vanløse Kulturhus
Guests
Guest of Honour (foreign):
Norman Spinrad

Norman Spinrad has written numerous science fiction novels and short stories since the late 1960ies. One of the most famous is Bug Jack Barron, about a media-dominated society, written at a time when that was still a phenomenon of the far future, and The Iron Dream, a fantasy novel authored by a alternate history Adolph Hitler, who became a fantasy writer instead of a dictator. More recent work from Norman Spinrad is Greenhouse Summer – a novel about the effect of hundred years more of global warming and pollution, and Mexica, a novel about the Spanish conquest of the Aztec Empire..
Guest of Honour (Danish):
Erwin Neutzsky-Wulff

Erwin Neutzsky-Wulff has written science fiction since the 1970ies. He is a rather controversial writer in Denmark, and not well-known outside Denmark, but most reviewers agree that he is very talented. His most recent work is Hjernen, a 1000 page novel about a man who gets parts of his brain replaced by artificial parts. Neutzsky-Wulff publishes the Danish fanzine Bathos, devoted to his interest in occultism, horror movies, bondage, politics and many other subjects.
Other guests (Danish):
Lise Bidstrup

Since her first book got published in 2005, Lise Bidstrup has written an impressive number of books, mostly fantasy and children's books.
Christian Haun

Christian Haun writes in many different genres, including fantasy and science fiction. His latest book is an alternate history novel about a small village in Denmark, in a world where Germany won the Second World War.
Niels Brunse

Translator and writer. Niels Brunse's work includes poetry, drama and even science fiction, in his novel from 2005 about a man who travels back in time.
Alex Uth

Alex Uth is well-known in the Danish rolepalying community, for the prize-winning games she has written. In 2007 she published her first fantasy novel.
Benni Bødker

Benni Bødker is a writer of children's books, an editor at a large Danish publishing company and a teacher at a creative writing school. His latest books are about vampires.
Palle Vibe

Palle Vibe is a writer of fiction and non-fiction books about various subjects. His specialty is the occult. Palle is the author of a Dansh cult horror novel.
Gert Balling

Gert Balling the coordinator of the National Network for Technology Transfer in Denmark and also involved in the Danish Science Café, where scientists meet artist and writers and a very active audience and discuss science and technology. He is also an expert on the relationship between man and new technology.